Arş. Gör. Mustafa Caner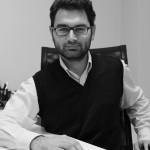 He graduated from the Department of Public Administration at Uludağ University in 2010. In the same year, started his master education in Politics and Social Sciences Department of Uludag University. In 2012, he started his career as a research assistant at Sakarya University. In 2013 he received his master's degree and began his PhD program at Sakarya University Middle East Studies EABD. He is still working on his doctorate.
Academic Employment & Posıtıons
Sept 2012 – Jan 2014              Res. Asst., Institute of Social Sciences, Sakarya University
Jan 2014 - Present                   Res. Asst., Middle East Institute, Sakarya University 
Professional actıvıtıes            
Co-Editor
The Journal of Iranian Studies (Peer-reviewed journal which is published in Turkish, English and Farsi)
Deputy Coordinator
Sakarya University Culture Publishing House         
Research interests
Iranian politics, Iranian Domestic Politics, Iranian Foreign Policy, Political Sociology of Iran, Reform Movement in Iran, Social Movements in Iran, Iran-US Relations, Political Science, Political Philosophy, Iranian Cinema
Publications
'Turkey – Iran Relations', 2016'da Türkiye, SETA, Dec 2016, pp. 129-134. (Turkish)
 'Iran's New Parliament', Ortadoğu Analiz, Vol. 8, No. 74, ORSAM, May 2016, pp. 60-63. (Turkish)
 'Iranian Women's Movements in American Media: Ahmadinejad Era', Turkish Journal of Middle Eastern Studies, Vol. 3., No 1., 2016, pp. 75-95. (Turkish)
 "Iran", Middle East Yearbook 2014, (eds.) K. İnat and M. Ataman, İstanbul: Açılım Kitap, May 2015, pp. 37-62. (Turkish)
 "Iran" (with M. Yesiltas), Middle East Yearbook 2013, (eds.) K. İnat and M. Ataman, İstanbul: Açılım Kitap, January 2015, pp. 47-76. (Turkish)
"The United Arab Emirates (UAE)", Middle East Yearbook 2012, (eds.) K. İnat and M. Ataman, İstanbul: Açılım Kitap, December 2013, pp. 277-295. (Turkish)
Reports & Analyses
"Iran", Regional Actors' Mosul Policies in Middle East, ed. K. İnat, SETA Analiz, No. 177, December 2016, pp. 12-14. (Turkish)
Conference Presentations
Mustafa Caner, "The Role of the US in 1953 Iranian Coup and its Impact on the Transformation of the US-Iranian Relations", III. Middle East Congress on Politics and Society, Sakarya University, Sakarya, Turkey, 11-13 October 2016.
Mustafa Caner, "Opportunities and Obstacles for Moderation in Iranian Politics: Rouhani Era", VIII. Uludag Congress on International Relations, Uludag University, Bursa, Turkey, 28-29 November 2016.
Yazara Ait Sitede Yer Alan Yazılar