Arş. Gör. Furkan Halit Yolcu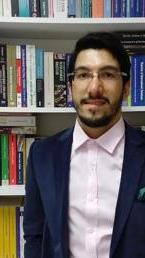 Furkan Halit YOLCU, Graduated from Political Sciences and International Relations department from Bahcesehir University which he studied with a full scholarship with stipends award in 2015. He studied his field in English throughout his Bachelor's and also learned Spanish in Barcelone where he spent 8 months with Erasmus exchange program. As the latest addition, he is mastering Arabic and he is currently on B2 grade. Currently, he is writing his MA thesis starting the academic profession at an early stage.
Research interests
Security Studies
Armament Studies
Conflict Zones in the Middle East
Public Opinion
Public Management
Governance in Turkey
Professional Activıties           
Editor
Publications
"An Assessment of Israel's Passive Stance in the 1991 Gulf Crisis", Turkish Journal of Middle Eastern Studies, 2016, Issue 5, pp. 166-186
"Iran's Involvement with Syrian Civil War Background, Reasons and Alternatives", BİLGİ Social Sciences Journal, 2016, Vol XII, Issue 1, pp. 35-64
Dodge B. (1970), "Muhammed b. İshâq en-Nedîm ve İslam'ın İlk Dört Asrının Kültür Atlası Sayılan "el-fihrist"ine Giriş" Furkan Halit Yolcu (translator), e-Şarkiyat Scientific Researchs Journal, 2014, Sayı 12, pp. 117-137.
 Book revıews
Bicchi, Federica et. al (2016), "The Struggle for Influence in the Middle East: The Arab Uprisings and the Foreign Assistance", Insight Turkey, Vol. 19 / No. 1 / 2017, Reviewed by Furkan Halit Yolcu
Korkmaz, Yusuf (2015), İran-Suriye İttifakı ve Arap Baharı Sürecine Yansıması, Türkiye Ortadoğu Çalışmaları Dergisi, Cilt 3, Sayı 2, Sayfalar 161 - 165 
Reports & Analyses
Yolcu, Furkan Halit (2016), "Latest actor of the Middle East's Arms Race, EGYPT", Middle-East Analysis, 2016, Issue 75, pp. 16-21.
Yolcu, Furkan Halit (2016), "Air Defense Capabilities of Armed Groups in Syria", Middle-East Analysis, 2016, Issue 76, pp. 66-70.
Conference Presentations
Yolcu, Furkan Halit (2017), "Iraq's Military Expenditure in the Post-ISIS Epoch and Its Regional Strategy" Conference Paper presented in Forth International Scientific Conference of University of Human Development
Yolcu, Furkan Halit (2017), "The Ballistic Missile Capacity of Iran and the Balance of Air-Defense in the Middle East", Conference Paper presented in International Symposium on Continuity & Change in North Africa, Turkey&Iran, Ankara, Turkey
Yolcu, Furkan Halit (2016), "Air Defence Capabilities of Armed Groups in Syria", Conference Paper presented in the III. Politics and Society in the Middle East Congress, Sakarya University, Turkey
Yolcu, Furkan Halit (2016), "Arming the Non-State Actors in Syria: Saudi Arabia and Qatar Examples", Conference paper presented in Uludag International Conference On International Relations, Bursa University, Turkey
Yolcu, Furkan Halit (2016), "Two Aspects of Migration as Facilitating Foreign Aid and an Economic Burden: Jordan Case", Conference Paper presented in Social Though and Theory in Middle East and North Africa 5 Congress, Sakarya University, Turkey
Yazara Ait Sitede Yer Alan Yazılar